In 2022, an average wedding cost around $30,000. Expensive, over-the-top weddings have become the norm, but that doesn't mean yours has to. You can craft a beautiful, memorable ceremony and reception without draining your savings account. Take a look at these unique, money-saving tips while deciding on the details of your upcoming nuptials.
1.Budget as Soon as Possible
A tried and true way to save money on your wedding is sticking to a budget. Mapping out your finances and determining where you want to save versus splurge will help you tremendously during the wedding planning process. In addition to your wedding, you may be planning a honeymoon or looking to buy your first home as a married couple. If you're also saving up for a house, then you'll want to understand how much mortgage you can afford before setting your wedding budget. This will prevent you from overspending on wedding costs and allow you to pursue other financial goals at the same time. Start a spreadsheet and do some research to determine what percentage of a budget people typically spend on each aspect of the big day. Call around to get quotes from different vendors and consider using credit cards for big expenses that you can get cash-back rewards or airline miles with—this could come in handy for the honeymoon!
2.Use Silk Flowers Instead of Real Flowers
As beautiful as real flowers are, they don't last a lifetime like faux flowers do. Florals make up a large chunk of your wedding budget. According to The Knot, floral arrangements and bouquets cost an average of $2,400 in 2022, but there is a way to save money on wedding flowers. Fake flowers are much less expensive and require less maintenance as well. Real flowers will need to be watered and cared for up until the day of the wedding, but fake flowers can be arranged ahead of time and will not die. With silk flowers, you will also be able to keep your bouquet to cherish for years to come.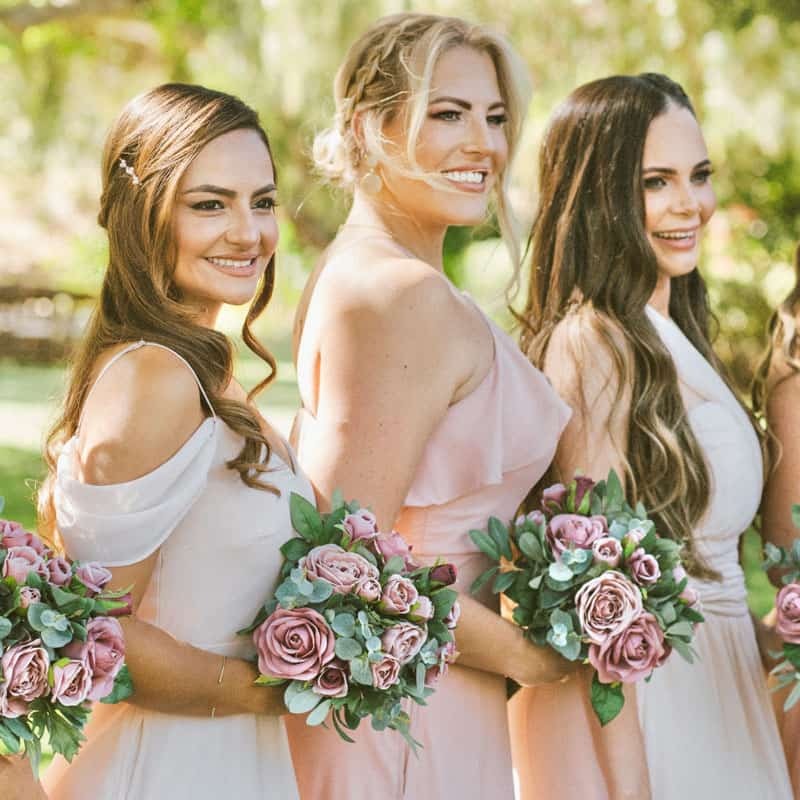 3.Plan a Smaller, More Intimate Event
You've probably seen those large, extravagant weddings on television and might think that's the perfect wedding for you. It might be, but if you're on a budget, you should consider hosting a smaller event with those who are nearest and dearest to you. Every person you invite adds additional costs, especially if they are allowed a plus-one. By scaling back on the number of invites you send out, you'll be able to book a smaller, cheaper venue, save on meal costs, and spend more time with each person at your wedding. Remember, the bigger the wedding, the bigger the cost, so keep your budget in mind when choosing who to invite to your big day.
4.Try to DIY
If you're looking to cut some costs, try your hand at making some of your wedding decor. Even if you don't consider yourself to be crafty, there are plenty of online tutorials that can help you add a little personal flair to your wedding. Focus on pieces that you know you can handle, like small centerpieces or place cards. Don't overwhelm yourself by trying to make every floral arrangement and wedding favor, some stuff is better left to the professionals.
5.Simplify Your Cake
Let's face it, many people get so caught up dancing and having a good time that they end up missing the cake-cutting ceremony. Although the wedding cake is a focal point of the reception, it can become unnecessarily expensive. Cut back on the extravagance of your cake and opt for something simplistic. You can save money by purchasing a decorated two-tier cake to cut with your partner and a basic sheet cake (hidden away of course) to serve your guests. While it may be tempting to go all out for your wedding cake, the fact of the matter is that it's going to be eaten and enjoyed whether you spend $200 or $2,000, so consider scaling back on the cake budget.
6.Go Digital With Your Invites
Wedding invitations can take up a small portion of your budget, depending on how many guests you plan on having. Printed invitations can be costly and sometimes unnecessary. If you're having a small wedding, it may be in your best interest to send digital invitations instead of paper. Plus, these are eco-friendly! Sending out paper invitations can be wasteful since most of your guests will probably just toss them away. A digital invitation saves paper and streamlines the RSVP process. Simply add a link to your invite for your guests to RSVP online to save yourself the hassle of tracking each RSVP yourself.
7.Buy Second-Hand
So many people buy brand-new items for their wedding only for them to collect dust after the special day. Avoid the waste and buy some of your staple pieces second hand instead. Most wedding decorations are only used once and then sold online for the next bride-to-be. Try browsing for pre-loved items like table linens, vases, or even dresses before buying new.