If you are wanting a fairytale look, without breaking the bank, consider these cost efficient design tips.
1.Go Big!
Pick one area and make it amazing, like this gorgeous staircase! Really go all out and make it abundant with flowers. You can use artificial to cut costs for the majority of the decor. From a distance, and in photos, you wont be able to tell a difference. Here are some white rose garlands and rose stems that can make this look for a lot less.
2. Repetition
A really basic design principal, is just repeating a pattern for a grand look. You can create an enchanted walkway, path very economically with some pretty paper hearts (in your wedding colors) and wood sticks. Just make sure that there are a lot!! This is a fun activity to do with your bridesmaids or flowergirls!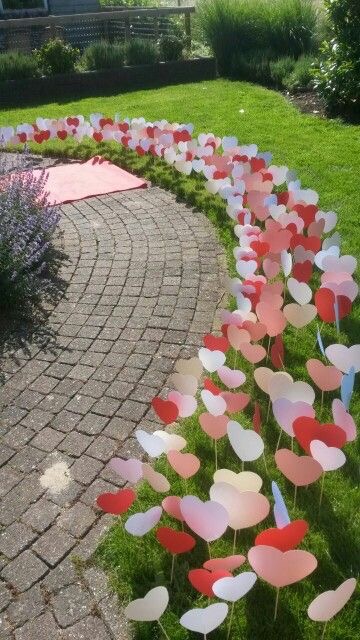 3. Abundance
You can create a fairytale wedding with candles and rose petals. Lots of them. A fairytale look requires abundance. Save money by collecting glass vases at yard sales and buy silk rose petals in bulk.