Blue Hydrangea & Roses Bridal Package - Silk Flower Bridal Wedding Bouquet- Garland - Cake Flowers- Wreath- Boutonniere- 7 Piece Package
Product Description
Beautiful Bridal Package of Blue Hydrangea & Roses!
Our artificial hydrangea is a wonderful alternative to finicky fresh hydrangea. The fresh version is well known for wilting flat without warning. Nobody wants withered blooms on their wedding day. Make sure that your bouquet will look fantastic for your entire wedding day. Our gorgeous blooms will stay vibrant and strong forever!
You can save time and money by selecting this stunning package and then you can just add any additional items you need, as everything is also available by the piece.
Here is the full list of what you receive in this package:
1

Bridal Bouquet of Blue Hydrangea & Roses
18 silk roses of navy and light blue surrounded by numerous hydrangea blooms. The silk garden hydrangea is custom dyed just for us in gorgeous shades of blue. This stunning silk wedding bouquet will blend perfectly with a broad spectrum of colors; from the lightest baby blue to the darkest navy. The bouquet comes with a lovely sheer organza white ribbon bow with white ribbon streamers cascading down. It measures 9 x 12 inches.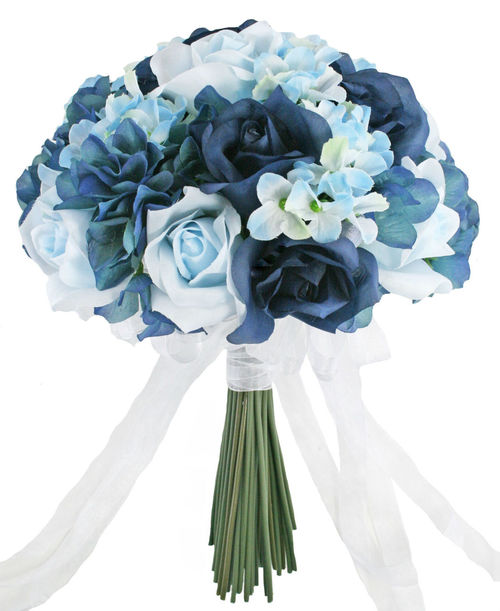 1 Bridesmaid Bouquet of Blue Hydrangea & Roses
9 silk roses in deep navy blue and also light blue shades plus dozens of perfect blue hydrangea blossoms that will never wilt in any weather or destination. Our blue silk wedding flowers are all hand dyed in our factory to coordinate perfectly together in the perfect blend of blues from dark to light tones. This smaller bouquet is perfect for a bridesmaid. Or you can use it for your tossing bouquet if you don't have bridesmaids. It measures 7 x 12 inches. If you have more bridesmaids and need to purchase additional bouquets, it is no problem, just click
HERE

.
2 Navy Blue Silk Rose Boutonnieres
Just a simple but elegant navy blue rosebud with natural green leaves. Perfect for the groom and groomsman. Also a nice option for the father or grandfathers. And if you need a few more, no problem! Just click
HERE
to add a few more to your cart. We also offer a
double rose boutonniere
if you are looking for something a little larger for the groom
HERE
.
1 Blue Hydrangea Wreath
Beautiful heart shaped wreath that is overflowing with hydrangea blossoms in many shades of blue. This gorgeous heart wreath was designed to coordinate with all our stunning blue flowers. We have the largest selection of exclusive blue silk wedding flowers in the world. It matches our

garlands

and

flower balls

and

petals

too! Measures approximately 14 inches across at the widest point. Includes a pretty white satin ribbon loop for hanging and natural green moss on the back for a perfect finished look.

Perfect for gates and doors. You can hang several to create a beautiful backdrop. So sweet to use after the wedding too!
Blue Hydrangea & Rose Cake Flowers

This versatile set of cake flowers includes 9 open roses, multiple sprigs of hydrangea, plus 200 matching light blue silk rose petals. You can sprinkle the petals all over the table or just cluster them around your cake as we did in the photo. The hydrangea sprigs come as a cluster of 5 florets or you can easily cut the florets into single blooms and decorate as we did on our sample cake in the photo.The rose heads measure approximately 2 1/2 inches across and you will receive 9 of them to use as you need. The silk rose petals measure approximately 1 inch in diameter and you will receive about 200 of them. These flowers and petals match exactly with the other products in this color scheme.
Blue Rose Garland - 8 feet long
We custom make these extra long garland for a high quality look that our customers expect. These are not cheap flimsy garland but they are really full of leaves and roses and accent flowers in the exact same shades of blue that are in this wedding package. You will receive 1 light blue rose garland that is 8 feet long with over 20 blue garden roses in various stages of bloom. You can order more light blue garland
HERE
or also we sell this garland in a dark navy blue
HERE
. These are perfect to decorate the headtable, bridal arch, entrance, or anywhere you want a touch of beautiful rose elegance.
Everlasting - A beautiful keepsake to pass on to the next generation. Imagine your grand daughter carrying your bridal bouquet down the aisle.
Durable - Silk flowers won't wilt in the heat or freeze in the cold. The consummate choice for all weather conditions.
Elegant - The silk flowers available to us today are so glamorous and realistic you will be amazed. We think that many of the flowers are even more vibrant and beautiful that their fresh counterparts.
Versatile - A silk bouquet can go anywhere! Pack it in a suitcase and take it on a plane, a ship, or a car. Anywhere you go it will look fabulous! No water needed. The perfect choice for destination weddings.
Flexible - You can use flowers that may normally be out of season and there are also a wide variety of colors, above and beyond the limitations of mother nature.